---
Albums Ranked And Reviewed
---
1
Fair Warning
My favorite Van Halen album. It has some of Eddie's best guitar work teamed with a solid performance lyrically and vocally by Dave. A melodic album without sounding "pop". I think it could have used 1 or 2 more songs and been a bit longer, a problem that plagued some of VH's early releases, but I guess that was the thing then - to be short and sweet. Side one is as about as good as they come with "Mean Street" and "Dirty Movies" leading the way. Side 2 is a bit weaker, but has the gems "Unchained" and "So This Is Love". Often described as a "dark" album, because of the lyrics, but really a great summer, in-your-face party album through and through. This is the kind of stuff VH should always come up with. Too bad they can't get this stuff no more.
Best Song: Unchained
Worse Song: Push Comes To Shove
Released: 1981
---
2
Van Halen

The first album. Only ranked second here because FW is a little more musically mature. This album is filled with anthems: "Runnin' With The Devil", "Ain't Talkin 'Bout Love", "You Really Got Me". I remember hearing "Eruption" for the first time when my brother played it in his car, "Is that a guitar? How does he do that?" I wondered. Everybody's favorite sing-along is here too: "Feel Your Love Tonight", a song I think possesses the definitive Van Halen sound. No one else but these four could make that song sound the way it does. The radio favorites "Jamie's Crying" and "Ice Cream Man" are here too. A classic rock album.
Best Song: Runnin' With The Devil
Worse Song: Little Dreamer
Released: 1978
---
3
Women And Children First

The raw sound of VH. Something like this could never go down during the Van Hagar era. Sammy's voice alone would have ruined everything and softened this record up. This albums shows why they need Dave back sooooo much. Only Dave can sing "Everybody Wants Some!!" on this album, live or anywhere. There is just no substitute for the real deal. Nothing rocks more or has the raw emotional feeling of "Romeo Delight", my favorite all-time VH song. I don't care what mood you are in, put this song on and you'll get whatever you want DONE. "Take Your Whiskey Home" is another VH classic. Any of these songs should have made the GH album over "And The Cradle Will Rock..."
Best Song: Romeo Delight
Worse Song: Could This Be Magic?
Released: 1980
---
4
Eat'em And Smile

Dave's first solo album. When compared to the first Van Hagar release, "5150", it really shows where the real sound of Van Halen went. The same thing today with "Slam Dunk", I guess it shows who had the most input on the classic Van Halen sound. This is the follow-up to "1984", not "5150". I didn't really like "Yankee Rose" that much the first time I heard it, but the song does grow on you with it's "sing-along" qualities. "I'm Easy" has no business on this record. "That's Life"? Well, it's okay. The Eat'em And Smile Band (as they have affectionately become known as) really rocks with "Shyboy" and the awesome "Elephant Gun". "Going Crazy" and "Bump And Grind" are cool in their own right with some cool sounding guitar. This album is a little short time wise. The cover of the album was cool and the poster of it hangs on my wall to this day. Too bad, later on Dave or his art directors would lose their touch for great album covers. The intro's to the videos featuring "The Fabulous Picasso Brothers" were great also.
Best Song: Elephant Gun
Worse Song: I'm Easy
Released: 1986
---
5
1984

This is where it starts to get hard. I rated these mainly on how often I play these records. 1984 is not everything I would really want out of a VH album. It's O.K., but I really do not like the sound production. It just doesn't sound like the classic VH. This was the first record produced at the 5150 studio, and it was over-produced like the rest of the "Van Hagar " albums made there since. "Panama" is one of the most over-rated songs they have done. It's everywhere, even Sammy sang (barfed) this song. "Hot For Teacher" is O.K., "Jump" is cool if you're in that mood. "Top Jimmy" is the only one that comes close to the classic VH sound. The rest of this stuff is pretty average for a Van Halen album. At least we got to see 3 good videos with Dave before he left. Just compare them to the videos that followed with Van Hagar. When Dave left, all the creativity and artistry left with him. Van Halen forever more would have to depend solely on Ed's guitar playing and the VH legend to survive. I think it was mainly that and the public sympathy (the same public sympathy he is trying to gain again with Mock3) that kept this band at the top of the charts after Dave left.
Bets Song: Top Jimmy
Worse Song: Drop Dead Legs
Released: 1983
---
6
Your Filthy Little Mouth

Man, I love this album. It shows Dave can do lots of different styles. It's not a "heavy" rock album, but some very cool tunes are here: "Big Train", "Experience", "Hey, You Never Know", "Your Breathin' It", "Your Filthy Little Mouth", "Land's Edge". Lyrically, by far, this is Dave's best effort. That good, witty, solid songwriting is something VH has sorely missed since Dave's departure. So why did this album do so bad on the charts? People just won't accept Dave as anyone else but "Diamond Dave". He was so good at being the wild and crazy front-man of Van Halen that he has now been type-cast. It's a shame too. People just shut their ears to change sometimes. It's funny, because that is exactly what the Mock3 fans are cryin' about now. The difference is though, is that VH has changed for the worse (again). I wish I could hear more records that were this good. Did I say I loved this album? Man, I love this album.
Best Song: You're Breathin' It
Worse Song: No Big 'Ting
Released: 1994
---
7
Diver Down
I know "Diver Down" is pathetically short, I know it is full of cover-songs, I know it doesn't rock as hard as some of the others, but I really like this album. Side one is all good. Side two has major problems though. "Dancin' In The Streets", "Big Bad Bill (Is Sweet William Now)" and "Happy Trails" are filler. I usually program these songs NOT to play on my CD. Otherwise, these are the kind of tunes you want to sing along with, especially "Secrets" and "Where Have All The Good Times Gone". The "Diver Down" tour was their best tour. The play-list, the stage, the look... I'm glad I got to see this at the Forum and at the Us Festival. The Forum concert in '82 was the best concert I ever saw. It blew away the (still good) Us performance.
Best Song: Little Guitars
Worse Song: Big Bad Bill (Is Sweet William Now)
Released: 1982
---
8
Skyscraper

This album is a little too "popish" for me. I liked it when it first, literally, hit the streets (I was there at the "Live" billboard unveiling at Tower records in Hollywood when Dave climbed down the roof). The guitars sound real thin and the album lacks bottom end. I think Dave saw VH's success and chart position with "5150" and tried his hand at the synth-pop-rock album. It sold well, but I think it hurt him in the long run. At least he changed course once again after this album, unlike VH who have become the top, pop-rock group out there. Steve Vai has some cool solo's. I remember meeting Gregg Bissonette and telling him his "Knucklebones" was my favorite song, and well, because it is, on this album. "Hot Dog And A Shake", "The Bottom Line" and "Skyscraper" are all good songs that would have benefited more from the "Eat'em And Smile" production qualities. They should have left this album a little more rawer.
Best Song: Knucklebones
Worse Song: Perfect Timing
Released: 1988
---
9
A Little Ain't Enough

This album's release date and ensuing tour was a catastrophe. Being released the same day as the beginning of the Gulf War with Iraq, really hurt this album. No one was listening to music. Everyone was listening to the news radio wondering if this was the beginning of WWIII. It should have been shelved for 6 months. Cinderella (gasp) opened for Dave, AGAIN. Extreme on the bill didn't help either. The album cover, I am sure, turned off the more conservative people, although it was meant to be an icon for sinful living rather than devil-worshiping. This album has it's moments though: "Hammerhead Shark", "Baby's On Fire", "40 Below", "It's ShowTime" all jam. This album suffers from being too long. "Lady Luck" and the awful "Shoot It" should have been dropped making a tighter record. The video of "A Little Ain't Enough" featured the light-heartiness of "The Fabulous Picasso Brothers" style and ended with a scary version of DLR in the year 2000.
Best Song: 40 Below
Worse Song: Shoot It
Released: 1991
---
10
Van Halen II

Is there really a bad Van Halen album? No, I'm not talking about Van Hagar or Mock3. No, there really is not. It's just that I hardly ever play this one as much and I think the sound or production is just not quite right. Sounds a little stale. The material isn't the strongest either. A lot of it sounds like B songs for the first album.You have to wait till the last two songs "Women In Love" and "Beautiful Girls" to hear the best stuff. I like the cover "You're No Good" and "Light Up The Sky" also. Don't get me wrong people, I like all of these albums and one of them has to be ranked last. Where this list ends though, is where the Van Hagar list begins. I would rather listen to the worst Van Halen album then the best Van Hagar album... and do not worry, I will not bore you with that stuff here. Come on people, get real, there is only one "real" Van Halen.
Best Song: Women In Love
Worse Song: Dance The Night Away
Released: 1979
---
Not Ranked
---
The Best

The Best of David Lee Roth, featuring the brand new song "Don't Piss Me Off". DPMO, an average song, but not as cute as "Private Parts". The story behind that song is that the musicians involved wrote the song for Dave and surprised him with it. Dave really dug the tune and decided to record it. Pretty straight forward - it was written only for Dave. Too bad DLR didn't have the marketing advantage that VH had with their greatest hits; being able to advertise "Two new songs with Eddie Van Halen!" on every CD. I guess he could have said "One new song with Brett Tuggle!" I would have liked to have seen "Elephant Gun", "Experience", "40 Below" or "You're Breathin' It" before some of these others here. I was surprised the hugely successful "Damn Good" wasn't on here. Overall though, a very good representation of Dave's solo career.
Best Song: Yankee Rose
Worse Song: Don't Piss Me Off
Released: Rothtober, 1997
---
Van Halen Best Of Volume 1

The album that started "The Whole Filthy Little Mess". The return and departure of Diamond Dave. The two new songs recorded with DLR, "Can't Get This Stuff No More" and "Me Wise Magic", blow away everything that Van Hagar has done the last 10 years. It also shows that Dave's voice is still there... although the EQ job on his voice is a bit botched and sounds too trebly (more sabotage at 5150?). Dave was to do two videos, one for each song. In fact, the MWM video was to be included on the Best Of Volume 1 video compilation. Dave flat out declined to do the video, because 1. It was creatively inept, 2. The band would be shot together with Dave's image being projected onto a telephone pole and 3. Ray Daniels, pleaded with Dave to hold off on the open letter and for Dave to do the video. When Slawterhouse interviewed Dave, he also stated that this video, at least from the perspective of the VH bros., was meant to erase the last thing VH was known for with Dave, great videos. They read the script and it was nothing more than morose imagery where the camera followed a talisman and VH is depicted as a background. Not to mention something about a bloody chicken claw. The song list is also suspect; "And The Cradle Will Rock...", "Dance The Night Away" and "Panama"? hmm... don't think so. And as far as the Sammy stuff, well, it speaks for itself. No wonder he didn't want his songs alongside Dave's on the same record.
Best Song: Unchained
Worse Song: Can't Stop Lovin' You
Released: 1996 (that fateful year)
---
Crazy From The Heat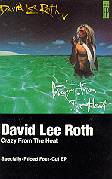 The E.P. that gave Dave all the confidence in the world. In many ways, I wish this record would have bombed. Dave would have probably stayed in Van Halen and we would have had another 5 or 6 high-quality VH albums., but this is just a guess. I don't think ANY singer can stay in Van Halen for more than a decade. There is just too much of an ego trip going on at guitar. We did get another 4 great albums from Dave, just 4 more "poor" albums from Van Hagar. Oh well, I guess some things just happen for a reason. I haven't listened to this for years. It's cool, it has it's place though. "California Girls", "Just A Gigolo/I Ain't Got Nobody", "Coconut Grove", "Easy Street"... only Dave could make a hit with these songs.
Best Song: Easy Street
Worse Song: Just A Gigolo/I Ain't Got Nobody
Released: 1985
---
Sonrisa Salvaje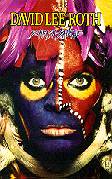 The Spanish version of "Eat'em And Smile" complete with over-dubs of Dave singing in Spanish. It is a nice little novelty. It is good, if you speak Spanish. Man, did Dave put all of his heart and soul into the start of his solo career or what? This guy worked his butt off, too bad he was constantly plagued with bad publicity from the Van Halen brothers. Why couldn't they have just kept their mouths shut and be professional about the whole thing instead of being the lame, sore winners that they were (and still are). They still had the VH name, 3/4 of the band and the "legendary" guitarist... 5150 went to No. 1... Why was still being commercially successful not good enough for these spoiled son's of bitches? They tried their best to destroy Dave. I hope they get what's coming to them, what they deserve... fan revolt.
Best Song: Arma De Caza Mayor
Worse Song: Soy Fácil
Released: 1986
---
Private Parts
This is an unreleased song from the movie "Private Parts". A song that would have never seen the light of day if it wasn't for Howard Stern, The Keepers, and the Internet. It has it's moments. I whip up my wave player on my computer every now and then and give it a listen. Dave's voice is still there, better than on the 2 new GH songs. He just needs a better back-up band than KISS (it is KISS playing isn't it? ::jk::) and something better to write about than Howard Stern's life. Sammy could not do this song successfully. The way Dave's voice goes low and then high. Even if Sammy used a pitch-shifter as well, it would not help. The guy has no bottom-end in his voice. He sings in the same octave all the time and does not sound convincing when it is lowered. That is something that just wears me out on the Van Hagar songs, no dynamic range. Dave's voice sounds better, has more soul and charisma, and has more range than Hagar's. Sammy Hagar can just sing higher and THAT IS IT. Gary Cherone is going to finish off the job that Sammy started, the complete destruction of a once great rock and roll band. I can still hear the chant, "Eddie sucks! Eddie sucks! Eddie sucks!" You better believe it people, hiring Cherone, was a HUGE "mistake".
Released: 1997
---
The Top 10 DLR/VH Songs
---
1. Romeo Delight
2. Unchained
3. Runnin' With The Devil
4. So This Is Love?
5. Slam Dunk
6. Feel Your Love Tonight
7. Elephant Gun
8. Mean Street
9. Everybody Wants Some!!
10. Blacksand
---